Biographical Information On Todd Wilken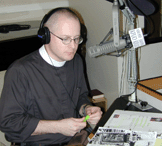 "Defending the faith . . . teaching the truth!"


Todd Wilken served as a parish pastor in The Lutheran Church-Missouri Synod for nine years before becoming host of the daily drive-time edition of Issues, Etc., heard in St. Louis on AM 850 KFUO. In September 2001, Wilken became the host of Sunday Night Issues, Etc., heard on about 100 stations nationwide, on XM radio and on the Internet.
Pastor Wilken holds a Master's of divinity degree from Concordia Seminary, St. Louis.
Wilken has written articles for The Lutheran Witness, Modern Reformation, Higher Things as well as numerous other articles and essays. He is author of the booklet, Same-Sex Marriage: Facing the Question. He is formerly co-editor of the journal Doctrine and Practice, and editor of the Issues, Etc. Journal.
Wilken speaks and preached internationally. He has served as a guest instructor for Christ Academy at Concordia Theological Seminary, Fort Wayne, IN and for the International Academy of Apologetics, Evangelism and Human Rights in Strasbourg, France.
---